Designing for Patients: The Latest Trends in Behavioral Health Center Design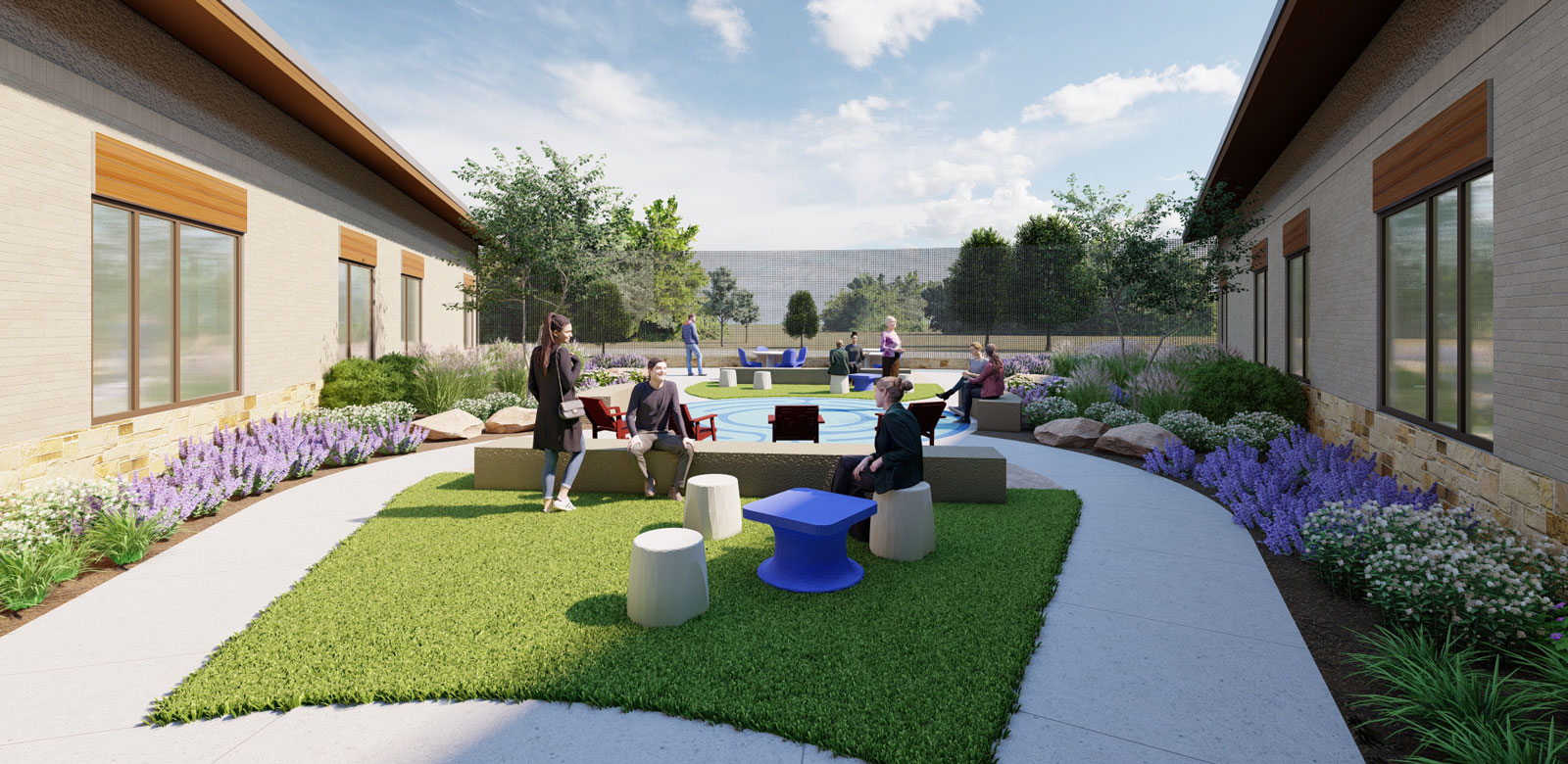 Read time: 4 minutes
The trends we are highlighting throughout our Trend Spotlight series provide insight into how we are providing innovative solutions and memorable experiences through design.
Behavioral Health facilities host several different patient populations – ranging from pediatric and adolescent to adult and geriatric – all of which require unique spaces for varying levels of care. Ranging from level 1-5, where Level I refers to Staff and Service Areas, Level II refers to Corridors, Counseling and Interview Rooms, Level III refers to Lounge Areas and Activity Rooms, Level IV refers to Patient Rooms, and Level V refers to Admission Areas and Seclusion Rooms.
But it is not just differing patient populations or levels of care that designers need to keep in mind. Unlike other state-run facilities, the next generation of behavioral health facilities are placing an emphasis on de-institutionalizing these spaces to make them more aesthetically pleasing. While meeting the requirements for safety and adhering to regulations is important – these facilities should also be designed to appear comfortable, non-sterile, and as home-like and residential in nature as possible.
As the Behavioral Health Design Guide (formerly the Design Guide for the Built Environment of Behavioral Health Facilities) acknowledges, "The focus on patient and staff safety has often pushed the aesthetics of these units toward the appearance of a prison environment. The challenge is to strike a balance between the safest possible therapeutic environment and a non-institutional appearance that is correct for the unique conditions that exist in each facility."
In the second of our three-part series focused on behavioral health, we sit down with Discipline Lead and Associate Principal, Anita Beard, PLA, ASLA to explore how the next generation of behavioral health centers are prioritizing comfort, in addition to patient care.
When you are designing the outside of a behavioral health center, would you say that the level of care or the patient age group is more important?
The level of care and observation that will be happening in that space is the starting point. For example, the entry of the building and parking lot have a different level of design than that of interior or inpatient wing courtyards. When we expand into detailed design and begin considering specific amenities, the end user group becomes very important. One color or surface material in a pediatric space may not be appropriate in a geriatric unit.
"
It is important that all patient types feel close to nature. Plants and living materials help to de-institutionalize what might be a cold environment, and aids in making patients feel inspired and comfortable.
"
Can you speak about outdoor spaces – what are some things you will focus on for all patient groups?
After meeting with key stakeholders, we have a basic understanding of their patients' needs, which can vary across medical systems, but the exterior program will generally consist of:
Safety and access – perimeter fencing that discourages climbing or elopement.
Flexibility in open space – for group therapy or small activities.
Creating the allusion of privacy without creating hiding spots.
Shade and attachment detail to avoid ligature risks.
Site Furniture – variety of attachment and weight classes to discourage weaponization.
Paving and surfaces – to provide interest and texture, as well as comfort underfoot.
Appropriate screening or plant placement to encourage patient room views into green space but without direct viewing into nearby patient rooms.
Speaking of plants, how do you incorporate natural materials? What do you need to consider when it comes to using them in a behavioral health setting? (soil, etc.).
It is important that all patient types feel close to nature. Plants and living materials help to de-institutionalize what might be a cold environment, and aids in making patients feel inspired and comfortable.
However, we must also ensure they are safe, maintainable, and not a tool for harm at any point. For example, we do not specify plants that may attract bees or produce a spike or thorn. We also consider from space to space the most appropriate mulch (I.e., hardwood or gravel) and irrigation components as they may be misused or ingested.
What are some design solutions you recommend for adolescent and pediatric patient areas?
When it comes to adolescent and pediatric patients, designing for different ability levels is crucial. Care needs for children exist on a spectrum, just as they do with adults. Providing activities for more acute patients, as well as more autonomous patients, is also vital in the context of their treatment and care.
We do this by incorporating inclusive features, such as accessible musical instruments and sensory panels, which allow for freedom of play and a pleasant exercise in creativity. An addition of playful colors to surface materials (I.e., stained or pattern concrete, poured in place rubber) or site furniture also helps enhance and activate the space. Exploring these color combinations, in collaboration with interior designers, can aide in wayfinding, as well as bring a sense of whimsy without creating triggers or negative thoughts.
We also pay close attention to weight requirements. With furniture and furnishings, we often must consider the weight of the item and its potential to harm. In pediatric settings, we can specify smaller units to be weighted with sand or gravel, providing some flexibility while also limiting their ability to pick up and move items independently.
How do areas differentiate for the adult and geriatric patient groups? What do you recommend for those spaces?
For adult and geriatric patients, they will also need a balance of calm respite and activity space. Where you have independent play areas in the younger units, these spaces in adult and geriatric units may have a small nook for reading, observing art in the landscape, or an intentional view out into the adjacent landscape. If space allows, walking trails, loops, and labyrinths for physical activity and reflection. Weight and attachment requirements for site furniture will increase in these spaces. Providing more flexible space for staff to host programming like table games, gardening and ping pong may also be considered.
In Summary
Through evidence-based design, these tailored amenities for specific patient populations transform even the most stark of spaces – creating a feeling of biophilia for patients of all ages. Coined by the Harvard naturalist Dr. Edward O. Wilson, the term 'biophilia' is used to describe humanity's "innate instinct to connect with nature and other living beings." Thanks in part to thoughtful planning and an eye for detail, the plantings and artistic elements featured in modern behavioral health settings can go far beyond pure aesthetics to provide something even more important – a reminder to patients that with proper care, they too can bloom.
Ready to bring your project to life? When working with Dunaway, you are limited only by your imagination. From master planning to infrastructure, amenity spaces, and project delivery, our team has experience on a range of healthcare projects uniquely customized for the patients, employees, and visitors they serve. Reach out to the authors below to learn more.
RECOMMENDED READS