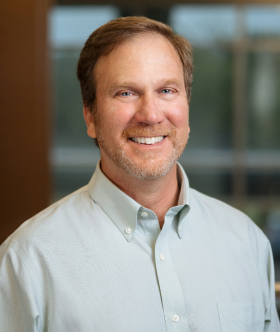 Mark Merryman
, PE, LEED AP
Senior Structural Engineering Manager | Principal
Mark Merryman is Dunaway's Senior Structural Line of Business Manager, bringing with him over 32 years of experience as a structural engineer with a demonstrated history of working in the design industry. As a Principal, he is skilled in collaborative team coordination, feasibility studies, due diligence, concrete design, steel design, high-rise, industrial, healthcare, hospitality, commercial, higher education, government, and mixed-use construction. Mark delivers strong attention to detail and is involved from the early design phases of projects through construction administration to ensure quality assurance and quality control of the structural division. His unique skill set in the design and construction of high-rise, commercial office, mixed-use, hospitality, and higher education projects has helped define Austin's skyline over the past 20 years.
Q+A
Why did you choose this career?
I wanted to be an architect but my parents wanted me to be in biomedical engineering. Once I started attending college, I realized that I really wanted a career related to architecture and changed to an Architectural Engineering degree.
What Core Value resonates with you the most?
If I had to choose one, it would be Integrity as I always want to be a person of strong moral principle.
What has been your favorite project to work on during your career?
My favorite projects from early in my career are the NASA Neutral Buoyancy Lab and Disney Feature Animation Facility at EPCOT.
What is the most daring thing you've ever done?
Summited a 14,000 ft peak in Colorado with my son in the snow.
What's the best gift you've ever received?
23 years ago my wife surprised me with a hammered dulcimer for Christmas. Learning to play this unique stringed instrument, attending festivals as a family, starting a stringed instrument family band, and teaching my oldest daughter to play the hammered dulcimer has brought joy to our whole family through the years.
Where is your favorite place in the world?
I really enjoy the outdoors. We find ourselves returning to the mountains of North Carolina over and over. We love hiking, waterfalls, the Appalachian Trail and adventures outdoors.