Elizabeth McIlrath Jarrell is Promoted to Line of Business Executive
Read time: 2 minutes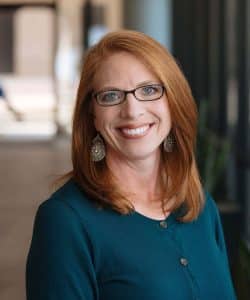 Dunaway is proud to announce Elizabeth McIlrath Jarrell, RLA, ASLA has been promoted to Planning + Landscape Architecture Line of Business Executive. As Line of Business Executive – Elizabeth provides technical and operational leadership, orchestrating a comprehensive team from initial planning through the design and construction process – ensuring a successful project for both the client and the community.
Elizabeth is a Principal at Dunaway and has served as an Engagement Manager in Dunaway's Planning + Landscape Architecture group. Her work history includes design and team leadership for a diverse range of projects, including public-sector parks and recreation projects, trail systems and greenways, athletic complexes, regional destination parks, community and neighborhood parks, lake and waterfront parks, as well as urban parks and streetscapes.
A Horticulture graduate of Texas A&M, Elizabeth went on to earn her M.S. at Stephen F. Austin and her M.L.A. at Texas A&M University. In 2001, Elizabeth started her career working alongside Philip Neeley, ASLA – forming what would become a working relationship that spans two decades. Over the past 20 years, they have been a part of several signature projects, including award-winning projects with the Dallas Park and Recreation Department. "Elizabeth is a respected professional and has developed a trusted working relationship with numerous municipal clients in the DFW area over the past 15 years," noted Neeley. "She has a natural ability to create consensus and enthusiasm for new parks, trail networks, and civic spaces. This respect is also reflected internally here at Dunaway, as she excels at collaborating with team members to guide projects to a successful outcome."
"
As we continue our Texas expansion, it is critical to have someone like Elizabeth that can engage with the community and stakeholders and turn their needs and desires into reality.
"
After joining Dunaway in 2011, Elizabeth worked alongside Dunaway's landscape architecture team. Together, they have collectively provided services to over 30 cities across North Texas. "Elizabeth and her team have created so many amazing parks and open spaces we all love to enjoy with our friends and family," said Chris Wilde, PE, CEO of Dunaway. "As we continue our Texas expansion, it is critical to have someone like Elizabeth that can engage with the community and stakeholders and turn their needs and desires into reality."
RECOMMENDED READS