Trend Spotlight: Increasing Urban Density in Suburban Areas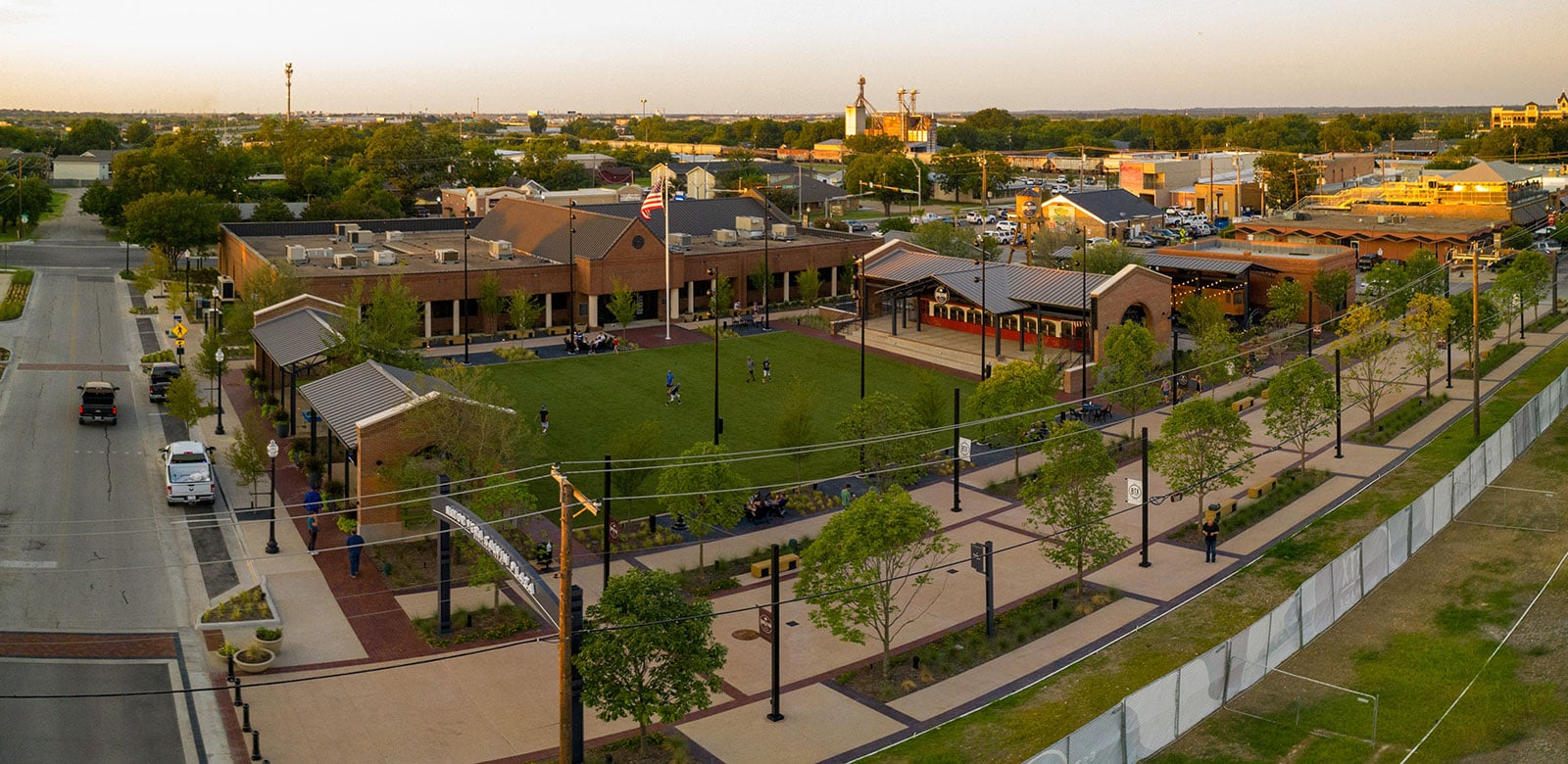 As urban areas such as Austin and the DFW Metroplex continue to attract talent and economic opportunities, smaller cities are shifting their focus to increasing population density by incorporating factors such as accessibility to work and entertainment. In our latest trend spotlight, we reflect on how smaller, suburban areas are creating dynamic mixed-use developments – hoping to attract those who want to live, work, and play there.
Mayor Vera Calvin Plaza in Old Town Burleson – Burleson, Texas
Located in both Johnson and Tarrant counties, Burleson is a not-so-small suburb outside of Fort Worth facing an increasingly growing population. Due in part to its significant growth, the City of Burleson decided to transform its plaza – creating a space that residents can enjoy for many generations to come.
Dunaway partnered with TBG Partners and Bennett Partners to provide civil and structural engineering services for Mayor Vera Calvin Plaza. Recognized by the NCTCOG with a 2021 CLIDE Award, the revitalized plaza includes a courtyard, public seating, shade pavilions, a performance stage, and picnic tables, in addition to a children's play area with a trolley serving as the backdrop.
The Bell District – Cedar Park Library – Cedar Park, Texas
Located in Cedar Park, approximately 16 miles northwest of Austin along US-183, is the Bell District, a new destination offering a fresh take on a walkable, mixed-use development. The Bell District is just one component of the Bell Boulevard Redevelopment Plan which aims to address community concerns and aid in economic growth for the city.
Dunaway is partnering with McCann-Adams Studios on the Cedar Park Public Library. Dunaway is providing civil engineering services, including grading and utilities for the 47,000-square-foot library, which is expected open in mid-2024.
The District – Office Complex – Round Rock, Texas
Just East of Cedar Park in Round Rock is The District. Located in Williamson County, the 12th fastest-growing county in the U.S., The District is considered part of the economic development agreement passed in 2019, which states that the city will construct 1 million square feet of Class A office, retail, and residential space.
Dunaway partnered with STG Design to provide structural engineering services on a 4-story, Class 'A' tilt-wall office building located within The District, which features a vaulted fourth floor and a five-story pre-cast garage. Adding to The District's goal of providing a work-life-play balance for tenets, Dunaway also provided structural support for a historic bungalow that was moved from downtown Austin to the site. The bungalow will be used as a coffee house – resulting in an experience for Round Rock residents that blends old Austin with everyday Round Rock living.
As both employers and employees find themselves relocating, smart suburban planners are re-imagining the concept of what it means to have a "small-town feel" for an increasingly urban age. Gone are the days when big cities were the only place to play. As life continues post-pandemic, individuals are no longer willing to give up precious time once wasted on long treks and grueling commutes. As a result, they are choosing to play where they live – demanding more from their communities with an emphasis on bringing the lifestyle of the big city into their backyards.
RECOMMENDED READS