Brad Moulton, PLA, ASLA joins Dunaway's North Texas Team
Read time: 2 minutes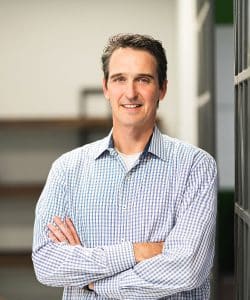 Dunaway's staff has provided professional services in Fort Worth for over 66 years, and we are quickly approaching the first anniversary of our Dallas office. As we continue to expand within the North Texas region, we are pleased to announce the hiring of Brad Moulton, PLA, ASLA as the newest addition to our Dallas team!
An award-winning planning and landscape architecture professional – Brad specializes in park planning, downtown redevelopment, and vision projects. In his role as Engagement Manager, Brad will serve to enhance our presence in Dallas, where he is currently a member of the American Society of Landscape Architects and previously served as the ASLA, DFW Chair, State Conference Co-Chair, and the ASLA, DFW Treasurer. "The Dallas market is one that I have lived, worked, and played in my entire life," explains Brad. "I have a passion for the community and the surrounding area, and I look forward to bringing this enthusiasm to the projects we are fortunate to work on."
A graduate of Texas Tech University, Brad brings with him 18 years of experience in a variety of project types, including the planning and design of large master-planned communities, municipal park planning, downtown master plans, transit-oriented design, streetscapes, visioning, city comprehensive plans, and site-specific landscape and urban design. As Brad notes, "I am most excited about the opportunity to serve past and future clients with the vast resources Dunaway has to offer."
"
I have had the privilege of watching Brad's career for nearly 15 years and have been continually impressed with the level of creativity, artistic thought, and fun that he brings to each project.
"
Elizabeth McIlrath Jarrell, PLA, ASLA, Planning and Landscape Architecture Executive and Principal
Planning + Landscape Architecture at Dunaway is in an exciting phase of growth. "The entire PLA team is working together to impact our communities with thoughtful planning and creative design projects. Brad's instinctive talent, natural leadership ability, and dedication to serve people makes him a perfect fit to steward our practice in the Dallas office," explains Dunaway's Planning and Landscape Architecture Executive and Principal, Elizabeth McIlrath Jarrell, PLA, ASLA. "I have had the privilege of watching Brad's career for nearly 15 years and have been continually impressed with the level of creativity, artistic thought, and fun that he brings to each project."
We are excited to continue to make a difference in North Texas. We believe that Brad's local presence and extensive experience in planning + landscape architecture services, and proven track record for leading award-winning, impactful projects will make him an asset to our Dallas Team. "We are thrilled to have Brad join our team. He brings tremendous experience in planning and creative design solutions," explains Engagement Manager and Associate, Philip Neeley, PLA, ASLA. "We know Brad will thrive in collaborating with our Dunaway team!"
RECOMMENDED READS